Author: Manu Steens
In this article I write my own opinion, not that of any organization.
The last days the weather was nice, last weekend there was even (again) a surprise of the trains filled with day trippers who wanted to go to the sea, and afterwards all wanted to go home again . According to the press, it was a huge mass of people at the sea side. The press had interviewed a few people. That gave an inspiration to apply my tool again to the support of the measures. The question I ask myself is, which aspects of support are failing here? Why did people seem to take a massive risk of contamination just to be able to go to sea? A challenge to try to measure support once more.
My analysis comes to the following color palette: (click for a better view)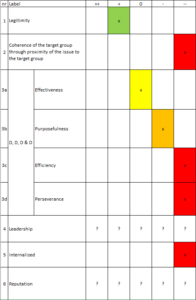 Discussion:
Legitimacy: people indicated that they knew that the risk was still there, that it might not be a good idea to be packed together on a train.
Coherence of the target group through proximity of the issue to the target group: Lately there have been many people who do not have a dead or sick person in their personal circle of acquaintances.
Effectiveness: because more people hear that the figures fluctuate around a very high number of patients in hospitals and ICU they may doubt whether their own efforts really matter?
Purposefulness: the web pages of Sciensano show to anyone who wants to know clearly the evolution of the vaccinations. However, a barometer had been announced  and never came, vaccinations that were promised to the masses by saying that the end of the tunnel is in sight, but are dependent on the supplier who does not seem to deliver, while ambiguity remains why… All of that make the whole less transparent. There remain many unknowns. The people may even have lost purpose.
Efficiency: the government is insufficiently successful in showing in a transparent manner where the shoe is pinching. Demonstrating the effectiveness of the government's own actions is done insufficient.
Perseverance: the people lose their discipline. There has been (for a long time now) corona fatigue. Many begin to believe their own false hope that there is no harm in it all, and take risks as a result.
Leadership: about this I do not look at the situation. It is unclear to me whether actors or other public figures with a good example have any influence at the moment. So I'm currently leaving it open.
Internalized: the people see the restrictions increasingly as a mandatory process. People probably know very well about themselves whether they are showing the behavior of a super diffuser, but partly due to the lack of perseverance and too little inspiration from above, they let themselves go.
Reputation: about this I do not look at the situation. I don't know if people are currently attached to their personal reputation or if corona can continue to be seen as a force majeure. So I'm leaving it open at the moment.
Conclusion: there is a lot of red on the canvas. That is not good. It seems that the negative hope, the hope that it doesn't do all that much harm, is winning over common sense. It has been stretched for too long a time. But what needs to be done is clear: persist and vaccinate as much as possible. We will desperately need that.