IRGC
Many of today's challenges are related to climate change, biodiversity loss, degradation of the ecosystem, exposure to chemicals, etc. and these have all been characterized by a high degree of complexity. They often have multiple causes and internal feedbacks within and external feedbacks between systems and over time. They are often difficult to define, determine, and it is often difficult for us to agree on them. This contrasts sharply with conventional risks such as classical environmental issues: water quality, food problems, urban waste water, waste and wastewater management, etc. which are more successfully handled.
The analysis in this document has to do with slowly evolving catastrophic risks. Although they are often foreseeable, we often can not stop them because they are built into the nature of complex adaptive systems. Moreover, one of the defining characteristics of our modern world is the interdependence of these complex adaptive systems. But what are those systemic risks?
Systemic risks are the "threat that individual failures, accidents or interruptions that occur in a system continue through the system through a process of contagion". It refers to a risk or probability of failure of a whole system as opposed to the failure of a single component. So there is a cascade of failure that involves the larger system. More abstractly, it is "a threat of a phase transition from one equilibrium state of the system to another, which is much less opportune, characterized by multiple self-reinforcing feedback mechanisms that make it difficult to reverse the evolution of the system". Systems that are vulnerable to this often also have the characteristic of being interconnected. Examples of systemic risks are the financial crisis of 2008, the collapse of the Aral sea, and the overfishing of the oceans.
The guideline for "the governance of systemic risk" proposes an approach of 7 interrelated steps:
Explore the system,

Develop scenarios,

Determine the objectives,

Co-development management strategies,

Focus on unforeseen obstacles and sudden critical shifts in the system,

Decide, test and implement,

Monitor, learn, review and adapt.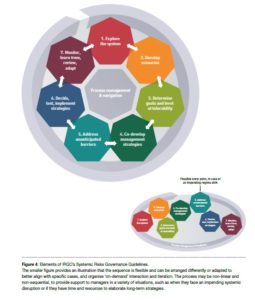 This requires iteration between and within each step.
The process must be coordinated by a "navigator" who plays a decisive role in bringing together the various stakeholders. He also ensures an effective implementation of the process and helps with the transfer of one transition from the system to another. It may be necessary for the organization to regularly adjust its objectives.
The process also involves addressing unexpected obstacles and sudden critical shifts. Obviously, the big obstacles must be known before the strategy is determined. But it must also be possible to think of sudden barriers. Adaptation possibilities of the organization are therefore a requirement.
The governance process for systemic risks must be open to a variety of possible entry points, depending on where the organization stands in its evolution, taking into account the course and timing of the development of the threat.
And in all of this, communication, openness and transparency are objective universal requirements to counteract difficulties in determining causal relations, psychological obstacles and often long latency periods. Round tables and platforms where information is shared are a requirement for creating awareness of existing needs and accepting the realistic management options.