Author: Manu Steens
In this article I write my own opinion, not that of any organization.
We write February 20, 2023. A Flemish newspaper writes "Drought plunges Argentina into a perfect storm – Argentina is groaning under the most severe drought in sixty years. The whole world will feel that".
On the internet, journalists explain that neither Ukraine nor Russia are making progress in terms of gaining ground, and that the West's arms supplies to Ukraine matter less than how those weapons are used. CAW – Combined Arms Warfare – is the new magic word. (More information about CAW can be found at Combined arms – Wikipedia)
One question is, does it make sense to post this wisdom about CAW and Ukraine on the net? With the collection of his flying equipment, it seems that Russia could also be planning something similar. Furthermore, there is a chance that Russia wants more than that: will it apply hybrid warfare in total warfare? What if it attacks Ukraine's economy by destroying grain production in the fields? The other countries in the world will have to step in with the food supply. What could such a future look like?
There are the following uncertainties here that I plot against each other:
Russia is actively or trying to eliminate Ukraine's grain production or not;
other countries (not just the West) may or may not be able to provide sufficient assistance in terms of grain production.
This gives us the following possible futures: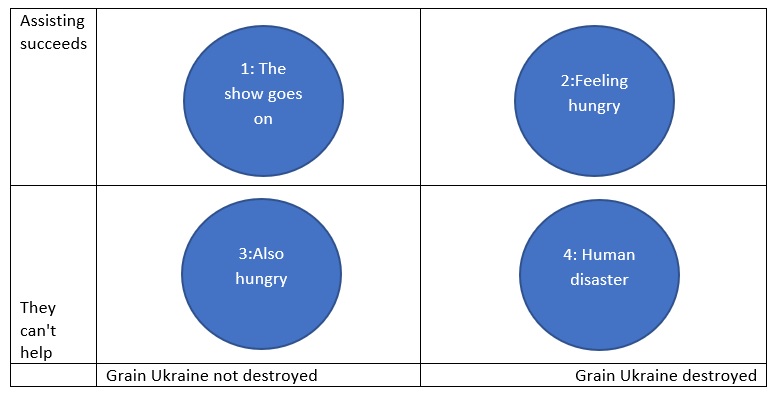 1: The show goes on – Assisting succeeds and the grain of Ukraine is not destroyed by Russia. Ukraine can export its grain and generate income. The disappointing harvest in Argentina does cause increases in food prices. This is going to be felt by ordinary citizens in many countries and is going to cause inflation to rise.
2: Feeling hungry – Assisting succeeds and the grain of Ukraine is destroyed by Russia.
In addition to the rising food prices, famine is imminent in Ukraine. More people are seeking refuge in neighbouring countries. Aid organizations are providing more food packages to Ukraine.
3: Also hungry – Assisting is not possible and the grain of Ukraine is not destroyed by Russia. There is a famine that is spreading: countries that depend on foreign grain see their livestock shrink. Meat production in a number of Western countries is coming to a standstill or is shrinking sharply. In the southern hemisphere, too, there is a cry for help with regard to livestock. A number of grain exporting countries impose export restrictions. Part of the global food supply chain comes to a halt.
4: Human disaster – Assisting is not possible and the grain of Ukraine is destroyed by Russia. The global supply chain of cereals and meat products is partly at a standstill, but the production and export of beer and alcohol production is also experiencing serious problems. Not only Ukraine is experiencing a famine, parts of Africa were also dependent on the grain from Ukraine. Inflation is skyrocketing, reaching more than 10% year-on-year again. Certain foods are taken out of the basket that defines inflation, in order to try to moderate wages and not derail the economy. The number of suicides among ranchers is increasing.
Conclusion: regardless of whether the war in Ukraine increases in intensity, food prices come under attack, and world hunger is not getting any better. Sectors that depend on grain production are also coming under attack. Ostensibly, this is independent of the war, but given that Ukraine is a breadbasket for the world, one disaster here may fuel the other. So a conclusion may be that it is a bad time to go to war. But it always is.